Residents and businesses across London can look forward to 13x faster broadband
.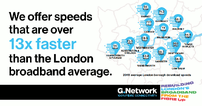 G.Network will upgrade over 80% of residents and businesses in 13 of London's boroughs to full fibre broadband. 
Tariffs that are the same price as non-fibre and leased lines connections.
Full fibre broadband available to all premises G.Network passes.
G.Network is supporting the £13bn boost to UK GDP by 2025 from the rollout of gigabit broadband to London
As many as 82% of premises in the capital are still using copper connections for their broadband. G.Network is planning to undertake one of the biggest infrastructure projects in London, making full fibre connections available for everyone and future-proofing London's broadband for years to come. 
The benefits for businesses and residents are significant. Customers able to get ultrafast, reliable broadband, far superior to old copper connections, for a similar price. With G.Network connections, residents can get up to 900 Mbps while businesses can get up to 10 Gbps. That's over 13 times the average broadband speed Londoners are receiving today.
Fibre broadband packages can deliver symmetrical download and upload speeds, as well as other package benefits, such as an enterprise managed router and internet telephony services.
According to the Internet Association, the full rollout of gigabit broadband across the UK would provide a boost to the economy of 0.7 percent of GDP by 2025, the equivalent of over £13bn, or an extra £217 per person a year. G.Network is doing its part to support this with affordable, ultrafast broadband for London. Tariffs start from £22pm competing directly with existing copper connections.