Patchy progress towards full fibre in London
.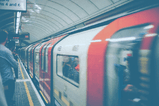 In May 2020 Ofcom, the telecoms regulator, published the latest in its "Connected Nations" series of reports. Connected Nations is a snapshot of the growth of mobile and fixed broadband services across the UK, as well as how people are using them. 
Here at G.Network we keep a keen eye on the data tables for London boroughs. We've looked at the latest data, and we've drawn a few conclusions from it.
Most starkly, there is a wide inequality of access to full-fibre broadband services in different boroughs. Some have made huge progress in recent years. In Westminster for example where G.Network has been very active in the last few years, only 11% of residents and businesses could access full-fibre broadband connections in 2017. That number has accelerated to almost 40% in the latest figures, and is rising fast. At the other end of the scale, there was no full fibre in Bromley in 2017, and only 1.1% of residents and businesses can get it today. 
With the rapid deployment of full fibre in some boroughs, the gap between the most- and least- connected is growing: in 2017, the most-connected borough was Tower Hamlets, at 28% availability, while a number of areas languished at just over zero. Now, in London's best-connected borough, 49% of residents have access to upgraded full-fibre connections – while Bromley residents are still on 1.1%. With so many people still working from home, rolling out upgraded broadband will become an increasingly urgent priority for policymakers in the next few months and years,
Another figure we'll be watching out for in the end-of-year update is the growth in data use on the fastest and the slowest connections. So far, the data has clearly demonstrated that the faster a connection, the more data people use. Again, taking the example of Westminster, the average internet user consumed 127.9 GB of data in 2017, a figure which has now soared to 300 GB. Westminster dwellers on slower connections only used 124 GB of data on average last year, vs 413 for those on the fastest. There is clearly a hunger amongst London residents and businesses for better connectivity with the growth of data hungry applications and services, and full-fibre connectivity is best-placed to meet it. 
Full-fibre connectivity has hugely improved in London over the past four years – especially In boroughs with concentrated rollouts, such as Westminster. But, as the latest Connected Nations makes clear, while a lot has been achieved, there is much more to do. The UK comes 35th out of 38th for the number of fibre connectivity according to a recent OECD report, and if London is to retain its position as a tier one world city, its residents and businesses require the connectivity to live, work, trade and connect with the rest of the world.  
If you want to find out more about how G.Network is rebuilding London's broadband then register your interest here