G Network welcomes the Prime Minister to the G.Network Engineering Yard and Fibre Academy
.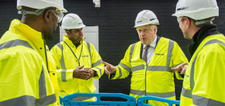 On Friday 22nd October Prime Minister Boris Johnson visited the G.Network Engineering Yard and Fibre Academy. 
Cofounders David Sangster and Sasho Veselinski were on hand to welcome him, where he was then introduced to G.Networker's from our Apprenticeship and Reskillship programmes. He heard about how we are training the next generation of engineers, and how they in turn are bringing full fibre to communities across London.
He also visited the Fibre Academy, where a class was in progress. Taking his hand to splicing fibre, ably instructed by a trained fibre engineer. From there he went over to our very own training street, where engineers learn to install fibre in real-life conditions. 
Uxbridge and South Ruislip MP, Boris Johnson said: "It was fantastic to have the opportunity to visit G.Network's new Engineering Yard and Fibre Academy which is being used to train up the next generation of high skilled fibre engineers we need to help us to deliver on our commitment to build fast reliable broadband for everyone in the UK."
The visit by the Prime Minister shows the important part G.Network is playing in upgrading London's connectivity.