G.Network hires TfL CFO Simon Kilonback
.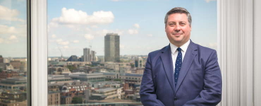 G.Network has appointed Simon Kilonback, currently CFO of TfL, as its next Chief Financial Officer.
Simon has worked at TfL since 2009, and previously served as Group Treasurer and Corporate Finance Director. Before TfL, he worked at Lloyds Banking Group, HBOS, WH Smith and Sony. His deep knowledge of financial and infrastructure matters will be a significant asset for G.Network.
Sasho Veselinski, G.Network CEO, said, "Simon's arrival marks a new chapter for G.Network. With the company growing strongly, we are delighted to have attracted an industry-leading CFO to join our team. We look forward to him commencing his role in the coming months."
Speaking of his appointment, Simon said, "I'm thrilled to be joining G.Network. It's a very exciting company that is revolutionising London's connectivity. I look forward to working with the team in the years ahead."
Simon formally takes up his role in May 2022.