Full fibre connections give a speed boost for Bloomsbury occupiers
.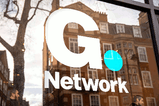 The Bedford Estates is one of the capital's landed estates, covering some 30 acres, and includes commercial offices, educational centres, homes, shops, restaurants and hotels as well as garden squares. And now residents have something else to celebrate: the Bedford Estates' buildings are being upgraded to 100% full fibre, thanks to G.Network.
Back in 2018, the Estates understood that decent broadband was increasingly being seen as a 'fourth utility' for tenants, and decided to launch an upgrade project. That led to a partnership with G.Network, which has seen us busily installing our state-of-art connections to residents and businesses across every building. And we're already making rapid progress.
Average internet speeds in the area sit around or just below the London average of 66 Megabits per second (Mbps). But with G.Network connections, any resident or business will be able to access speeds of up to 10 Gigabits per second (Gbps): more than 150 times faster than existing connections. With so many people continuing to work from home, the upgrade will be invaluable.
As Louis Braham, the Asset Manager for the Bedford Estates, put it, "We have been working closely with G.Network over the last two years to install fibre connectivity throughout our Estate.  Occupiers across Bloomsbury are now starting to benefit from that investment."
To date, our connections are available in Bloomsbury Place, Bloomsbury Square, Bedford Place, Montague Street, Store Street, Bedford Square and Adeline Place and we're rolling out further with every passing month.
Thanks to the Bedford Estates' foresight, and our connectivity, many Bloomsbury residents will be able to connect, learn, stream, shop and work online as never before.