Boost for business as futureproof broadband trialled by G.Network
.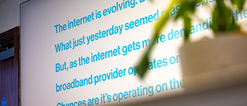 London broadband provider G.Network and technology provider Xantaro test next-generation full fibre broadband using Nokia's latest equipment.
A successful test of the latest development in full fibre broadband, which could help to bring London's business broadband up to speed, has recently taken place in central London.
London broadband provider, G.Network, in partnership with technology firm Xantaro and using Nokia's latest equipment, has demonstrated how greater speed and capacity can be delivered to London's businesses. The 25G test, carried out last month in central London demonstrated symmetrical speeds (both download and upload) more than double those currently delivered on the same full fibre network. 
"London is one of the most influential cities in the world, and yet it lags behind in terms of broadband speeds, especially for businesses," said G.Network's CEO, Kevin Murphy. "G.Network are changing this. We're playing an important part in the UK government's Project Gigabit by rolling out our full fibre network across 13 central London boroughs. We're futureproofing the capital and this test shows that our network can provide speeds that future generations of business will demand."
G.Network's CTO, Paul Weir said: "Xantaro and Nokia are key partners for us and I'm pleased we've been able to use their latest technology to demonstrate even higher symmetrical speeds on our FTTP network. These high-bandwidth, symmetrical technologies are the smart alternative to expensive fibre leased-lines for London's businesses, and prove that our existing network is futureproof". 
Xantaro's CTO, Steve Kingdom said, "Working with our altnet customers in the UK, we always offer the best industry solutions to meet our customer requirements.  Nokia's 25G PON technology is perfect for high-bandwidth consuming businesses in London and across the UK and this trial has proven that forward-looking network operators can bring next generation technology to companies across the country".
Nokia's CEO UK&I, Phil Siveter said, "25G PON is realising the future of fibre today and provides key benefits over and above those provided by current networks. It has huge capacity and is simple to install into existing access technology used in exchanges, data centres, businesses and campuses. Using 25G PON enables service providers to quickly boost the capacity of their existing fibre assets, seizing high bandwidth opportunities today and providing the scale needed for the future." 
G.Network is an independent broadband provider that's upgrading the capital's outdated infrastructure from copper to 100% fibre connections. G.Network connects London's residents and businesses to ultrafast, reliable broadband with speeds starting at 100Mbps, all the way up to 10Gbps.
Media contacts
G.Network 
For media enquiries, please contact press@g.network
Xantaro
For media enquiries, please contact Proactive PR by emailing or by calling +44 1636 704888